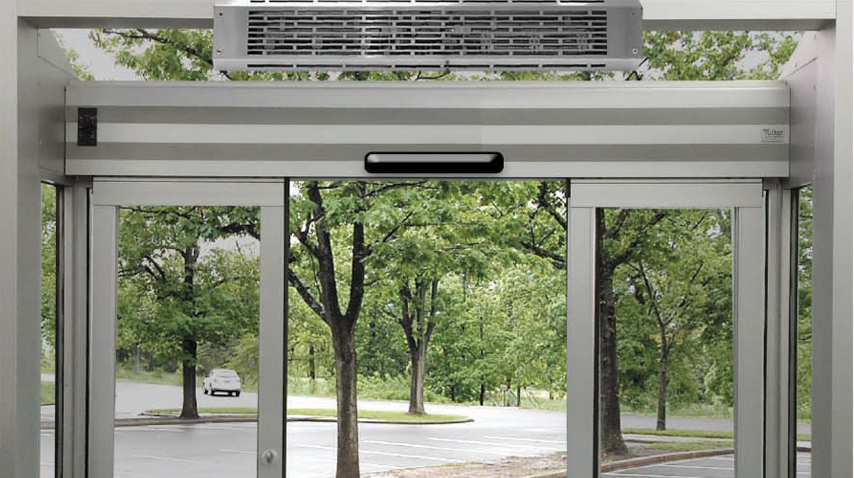 Air curtains were once an energy saving device for industrial shipping doors is now utilized by Hotels, Restaurants, Food service operators, Retailers etc for eliminating flying insect infiltration and increasing employee/ customer air comfort.
They are typically mounted inside the top of a doorway and continually discharge a steady stream of air down to separate indoor and outdoor environment.
Air curtains in UAE, impress their clients by introducing more advanced technology curtains and implementing them in new applications.
Technological Advancements of Air Curtains

Increase Heated Airstream Efficiency :

Venturi effect heater with no discharge obstruction makes air curtains get 100% aerodynamic potential.
Air Curtains For Hazardous Locations :

Explosion proof motors, spark resistant fans, Hazardous Location electrical components and constructions improves safety.
Length Extension of Air Curtains :

Doorways wider than 12 feet can be accomplished using single construction units designed for 16  feet length. 
Air Curtains Substituting for vestibules :

Now certified air curtains are used as vestibule alternative for energy saving air – locks.
New Applications
New drive – thru window air curtains are used for a variety of purposes in many restaurant chains and food services.
Expert installation teams of air curtains in Dubai says as technological advancements happen even more new air curtain applications are expected to emerge in other areas too.
All growth depends upon activity, so work actively and yield more growth in your industry.